Armida has waited more than 25 years to be able to walk down the aisle.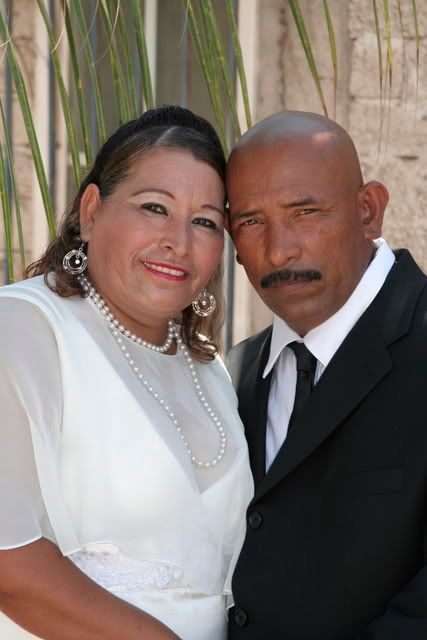 They have kids and grandkids...one of which hid under her train during the service.
Finally, last month, Aristeo and Armida officially "tied the knot"!!! Pastor Tom was able to perform the ceremony. That was such a blessing to the married couple! Tom and Naomi have been such an important part of the church in Boca for many years and are dear friends to both Armida and Aristeo. The wedding ceremony had been postponed for more than six months so that both Tom and Naomi could be there.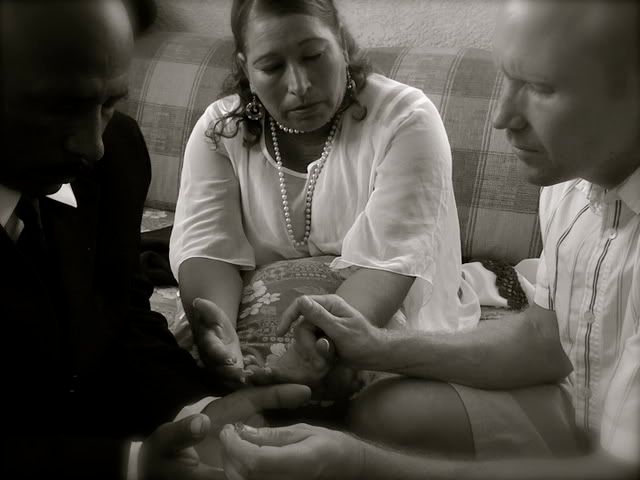 Pastor Ricard and his wife Cristina were the
padrinos
of the rope, which symbolized the union -- unbreakable and permanent -- of man and wife.
Pastor Marc had a chance to pray for the couple before the service.
Doug and Rebecca were the padrinos of the rings. The rings symbolize the unending love of husband for wife, wife for husband and -- more importantly -- God for both.
Andrew is Aristeo's fishing buddy and is counted among his grandkids.
After the church service, practically the whole town turned out for Aristeo's legendary barbecoa.
We all agreed that Aristeo, fisherman to the core, cleaned up pretty well! Armida, of course, was absolutely glowing and the service was simple, yet deeply touching.
Symbolism plays a huge part in the Mexican culture and maybe is seen nowhere as strongly as in the Mexican wedding ceremony. The vows are very similar to those taken in the traditional American ceremony. Added significance is given though to the rings (which are brought forward by a couple called the padrinos of the rings), to the joining of the couple as one (symbolized by the white rope pictured above), and to the couple's first communion, or Lord's supper, to name a few.
Those of us who've known Aristeo and Armida for a while were pretty emotional! To see them finally have the church wedding they've wanted for so long...it was beautiful!