We were invited to our friend Basilia's birthday a couple of weeks ago. Mexican birthday parties are such fun! Basi didn't have a piñata, but she did have a fantastic cake!
Andrew asked if it was a "tres leches cake". Basi said, "No. It's just normal. We wanted quantity, not quality!"
Something funny we've noticed about a Mom's birthday here -- usually all the family and close friends come, there's a huge cake and a great meal...and Mom does all the work. What's up with that??? I was laughing about that with Basilia and she agreed that it didn't seem fair, but since she had to make it all, she got to decide on the menu. We had shrimp salad. Oh, yum!
Esteban kept getting calls from his various bosses, "Esteban! I need you!" "Esteban, help!" "Esteban, when are you coming by?" Esteban is care-taker for more than half the vacation homes in Las Glorias, so he's much in demand during tourist season. He did manage to spend a little time relaxing -- and of course he got a big piece of cake!
We sat around eating and talking all afternoon. Julio and Lupita are Basilia's mom and step-dad. Pedro and Luci and Jesús Israél are her brother and his family.
If those names seem familiar, they should!!! These are the couples from our Bible study. This is our extended family here in Mexico. It's great to be part of a big family!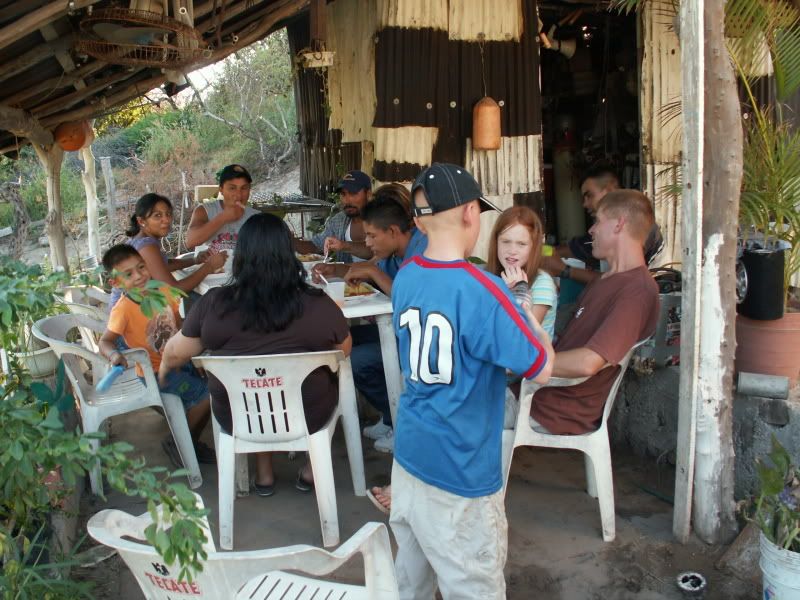 The young man almost hidden by Andrew is Luis. Luis began working as Esteban's right-hand man a couple of years ago -- when he was 12. His dad died when he was very young and his mom has worked hard at whatever she could find to support herself and her two children. Esteban and Basilia have sort of adopted him as a son, or at least as a younger brother. The village is lacking male role-models and Vergin, Luis's mom, saw something worthy in Esteban. It's the Lord. Esteban gave his life to the Lord a little over 2 years ago and is trying to lead his family to Him.
Keep these families in your prayers!!!!
Last photo! Basilia has the most beautiful yard in all of Las Glorias. Yes, I'm biased. This girl has a
major
green thumb! The "blooming season" is just past and another will come in a few months, but all that green is so beautiful!