We had a bit of tension over the weekend as Hurricane Norbert whooshed through our area. Praise God that Tropical Storm Odile gave him a little nudge and he passed us slightly to the north. Saturday, Doug and I and a few of the kids went down to the beach to see what was "up". The tide was. Where's the beach???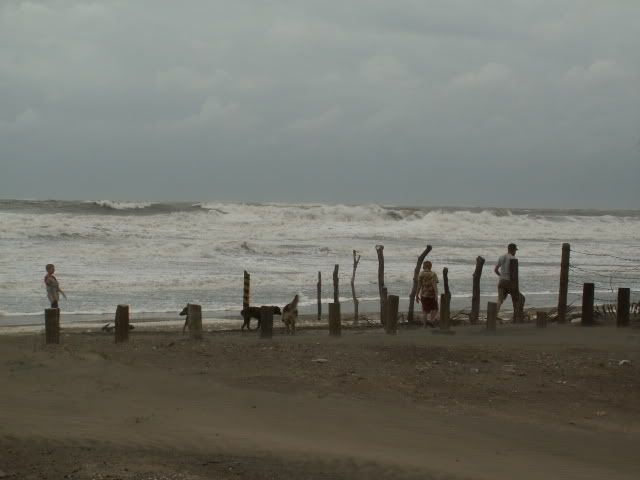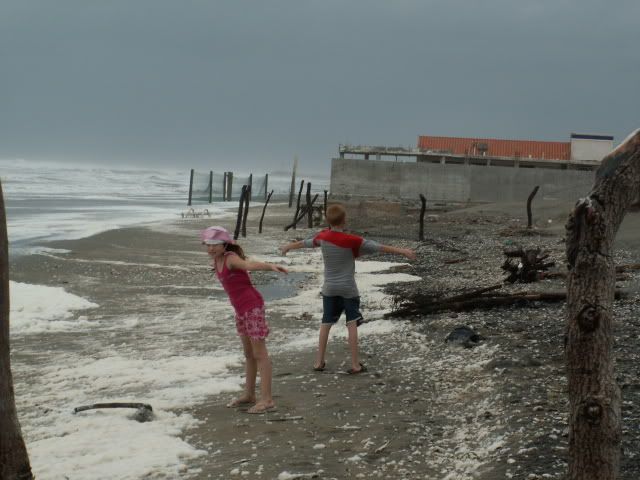 The kids found the wind to be pretty strong! The gusts were churning the waves into foam and that foam was blowing across the sand like bits of cotton fluff. At one point, a gust grabbed Doug's ballcap and took off with it. He, Andrew and Seth took off after it -- right into a sand storm!
Some of our neighbors were on their roofs taking pictures. I didn't go on the roof. Later Saturday evening, Doug did actually climb up on the roof to fix some roofing that was coming loose. He didn't tell me he was doing that. I probably would have said something like, "No way!!!" I realized where he was when the ladder blew off the roof and Jessee came downstairs to get it. No, he was not on the ladder when it blew over. Thank you, Lord.
We didn't get a lot of rain. We were actually praying that it
would
rain a little, because the wind was whipping the sand fiercely against the windows and doors. So much so that fine sand was coming in through cracks and creating a silty, gritty film on everything. We had to wipe every dish and every cup and every flat surface once the storm ended.
All things considered, though, we got off really easy. Our bike canopy blew away, the awning out front of the house was munched a little, we lost some roofing and the power was out for 3 days. Friends and missionaries a couple of hours north were not so fortunate.
Pray for the village of Alamos, Sonora, where Norbert hit hard. Villagers are still shovelling mud and muck out of their houses. Many families lost everything. Remember -- "everything" here is a lot less than "everything" in the States. If you lose "everything" in the States, State Farm will be by first thing Monday morning to take a report. Losing everything here means that you are looking for someone who has the same size feet, because you don't have any shoes.
You can
read more about the storm damage in Alamos here
.