The original plan was to leave Arizona on Tuesday, but we were delayed and ended up heading south on Wednesday morning.
Our trip home was pretty good. We crossed the border with no problems, but got examined thoroughly at every place we could have. I gave out a lot of tracts.
After a good day of driving, we stopped in Ciudad Obregon for the night. The second day as we were coming through the last mountainous pass before Los Mochis, I threw my belt. It was a little scary since the steering and especially the brakes weren't too good without the power assist. Once again God gave us a great place to pull over. Good thing too because the heat skyrocketed almost instantly. The belt, although chewed up a little, was fine. The top idler pulley had lost its bearings and seized and kicked the belt off.
A couple of minutes after we pulled over, a patrol of federal officers stopped behind us. They we're extremely nice and helpful. After trying to help me rig it to limp along to Mochis (didn't work), they me drove to a junk yard twenty miles away where I found the part I needed for $10. Then they flagged down a bus to take me back to the van and my family. They even gave me their 18" inch screw driver to help get my belt back on. I offered to buy them a Coke, but the only thing they wanted was a thank you. I was really impressed. Where I come from, I don't think the police are allowed to help people in that way, even if they wanted to.
The bus driver dropped me off right on the highway where my van was and even gave me the water I needed to refill my radiator. We were able to witness to several people through the experience and from the time we broke down to the time we were on our way again was a only little under two hours.
As we pulled back onto the highway, we were reminded of how our God provides for us. We had been able to pull off the road almost immediately when the van began to overheat. That in itself is a miracle, since the highway has no shoulder and was very curvy and hilly. We rounded the next bend and once again praised God. The next several miles looked like this: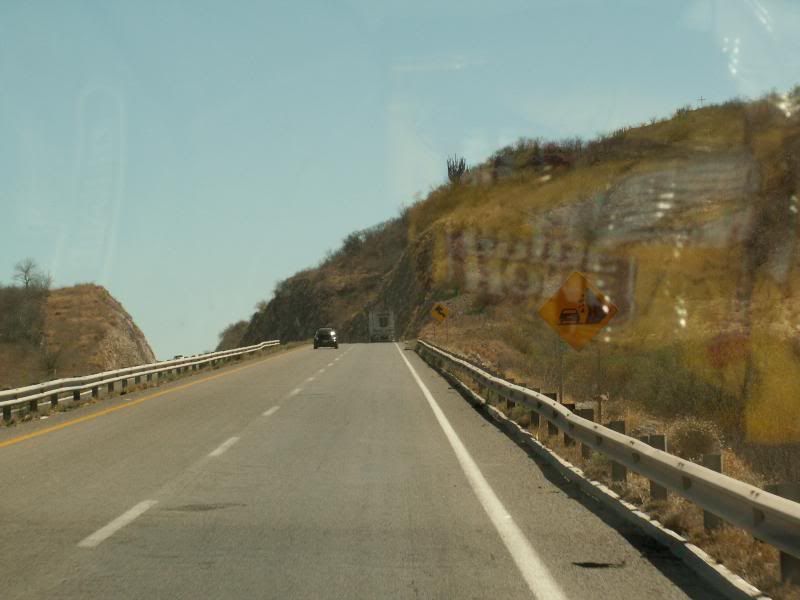 To God be the glory!
-- Doug