Here's another "picture-full post" about what the ladies of the church have been up to lately.
Maria and Pedro, one of the couples in the church, are going through a hard time right now. About a year and a half ago, Pedro started forgetting things. Silly things like the words to his favorite hymn and how to play a G chord. Faster than you could imagine, his memory faded and dementia began to set in. He was diagnosed with Alzheimers last fall and now needs 24 hour supervision. He wanders the streets with a bit of a lost look on his face. Once in a while he has clear moments, but they're becoming fewer and farther between. (You can
read more about Maria and Pedro here.
)
The medicine Pedro needs in order to stay coherent and to be able to sleep costs almost $100 a month. Maria's only income is from the small
abarrotes
(like a mini-mart) which she has in her house. She said that she averages about 30 pesos a day profit. That's about $3 US, so you can see the problem.
The women of the church decided to gather every Tuesday to make
tamales
to sell. The proceeds go to Maria to purchase the medicine Pedro needs. It's been a real blessing to their family, and it's a blessing to us as well. It gives us a great opportunity to get together and fellowship!
So, here are photos of the
hermanas
(sisters) and our
tamale
fest.
Sister Yesica separating and prepping the corn husks which will be used to wrap the tamales.
Sister Lina is the official masa mixer! Everyone tastes it as the mixing progresses, giving their opinion about the texture, saltiness, oiliness, dryness until everyone is satisfied. That sometimes takes an hour of mixing and testing!

Meanwhile, the other sisters are chopping the veggies and shredding the meat we'll use to fill the tamales.

Sister Armida is making the
picadillo
-- the meaty filling. The towel on her head is the "multi-purpose towel of Mexico". It's a sunshade in this photo. If you look closely at the pictures, you'll see that most of the ladies carry a towel or wash cloth around with them. In the States, everyone carries a cell phone. Here, we carry a hand towel.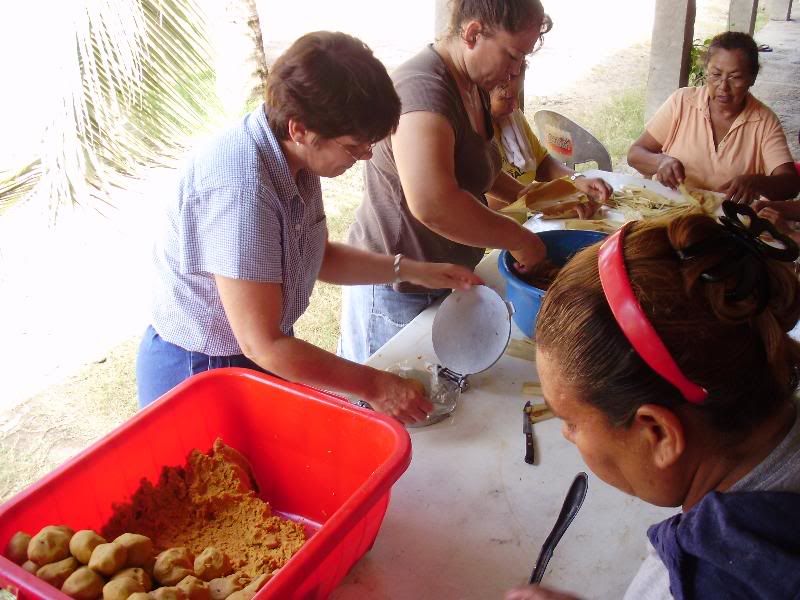 Once all the ingredients are ready, the fun begins. Here you see one of our American missionaries, Rachel, trying her hand at pressing the
masa
into shape. She did very well!!!
When the tamale shaping begins, the fellowshipping really gets going. We tend to get a little silly! These are my dear friends Pily and Cris. I'm the white chick, obviously.



Once all the tamales are shaped and wrapped, they're placed in the really big pot and set over a fire to cook for a few hours. Here are Rachel and Armida with our day's work: 150+ tamales.