A few days before our planned departure from Arizona, we sent emails to our friends in Mexico. We wanted to give them an idea of our return time -- everyone likes to show up to welcome you home if you've been gone a long time.
The note I got back from our friend and sister, Eugenia, was encouraging and funny at the same time -- and it was SO Mexico! "Hermanos," she said, "we are so happy that you'll be home soon!" She then shared all that had been going on in the Church since we left. She concluded with this sentence, "So we're having a baptism on Sunday afternoon at your house." I love it! Of course we were excited about the baptism; we were also touched that the people know us well enough to know that we would not have any problem with 80 people coming over to our house for a fish fry and baptism.
The youth all got together to play a little basket ball before lunch.
As it turned out, the fish fry happened in Alamito -- which I think worked out much better -- and folks only came over briefly to baptize one brother. It was a great time of fellowship! Having all three of the Vida Nueva churches together at once was really special. I love how these three congregations work together as a family.
It took a while to get the gas tank set up. It's always a challenge to get all the tools and parts necessary to complete a task!
With the gas working and a windblock set up, Brother Mailo started frying the fish. He fried a A LOT of fish!!!
On a Sunday afternoon, the beach at Ensenadita is generally pretty crowded. This Sunday was no exception. However, when we pulled out the guitar and began singing praise and worship music, people stepped back and let us have a little patch of beach to ourselves.
After baptizing 3 people at the beach, we piled back into the vehicles and headed over to our house. We even picked up a few new people, as some of the people at the beach wanted to come back to our house -- they were old friends we hadn't seen for quite a while.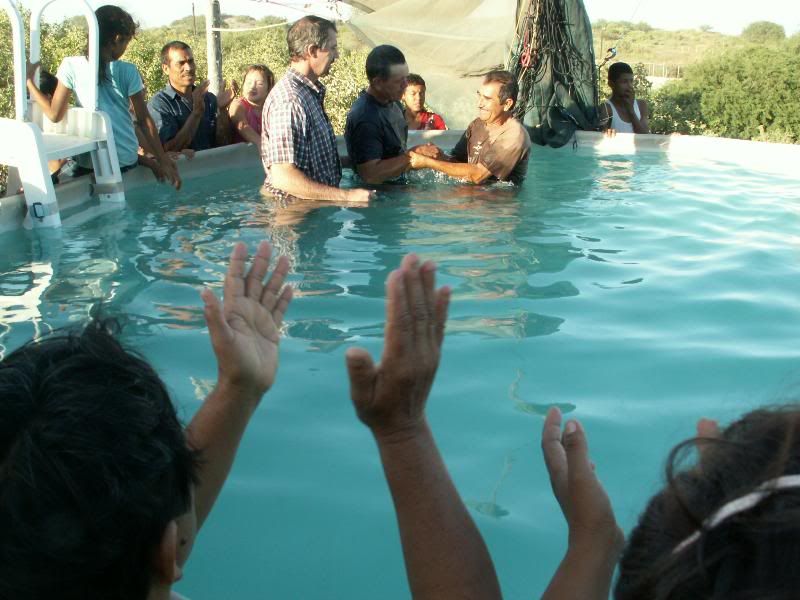 It was fun to have such a big group at our house! We haven't done it for a while, and I realized how much I've missed big get-togethers. I'm thinking that we need to do this more often!!!