The fishing here in Boca del Rio is wonderful in November and December. The locals have been pulling in 10 pound red snapper, sea bass and a lot of others that I don't know the names of in English for the past couple of months. Pat and Gary, our friends from Oregon, like to fish as much as Doug does, so they managed to kidnap Esteban (who was pretty happy to be dragged along) and hired one of the men from La Pitaya to take them out fishing while they were here.
The guys got up early (twice, actually, but that's another story) and headed to the canal to catch some bait. The big fish only bite on live shrimp or small fish.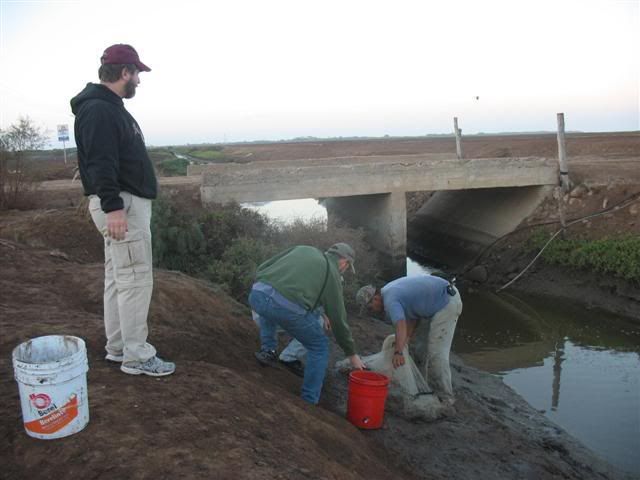 Esteban demonstrated the proper techniques for throwing the
taralla
(hope I spelled that correctly) and explained how to hold it...and why. He said that some guys tie the net onto their wrist or thumb, but the experienced person will tie it to the middle finger or pinky. Why? Well, many times a person will throw the net into the water from a boat. If the net happens to get caught in the propeller, the appendage tied to the net will get taken off. It's better to lose the pinky finger than the thumb or your whole hand. Pretty effective object lesson, I must say.
The guys then went to La Pitaya to meet up with Chabelo, who wasn't the only early morning fisherman out!
After being on the river a few hours, they then headed over to a place near the mouth of the river to fish from the shore. No pictures, sorrry! The photographer dropped the guys off at the boat!
At the end of the day, the guys had a 5 gallon bucket full of fish and were headed home. Since we women had the van, they were on foot. They met guy on the beach who looked like he could use some fish and asked if he'd like them. "I don't have any money, though," he said. Doug explained, "No!! We just want to
give
it to you!" He was happy then!
The younger boys went out with the dads the next day and did manage to bring in a few good-sized fish.
Lunch!!!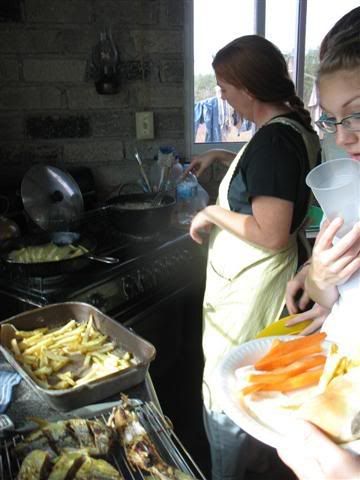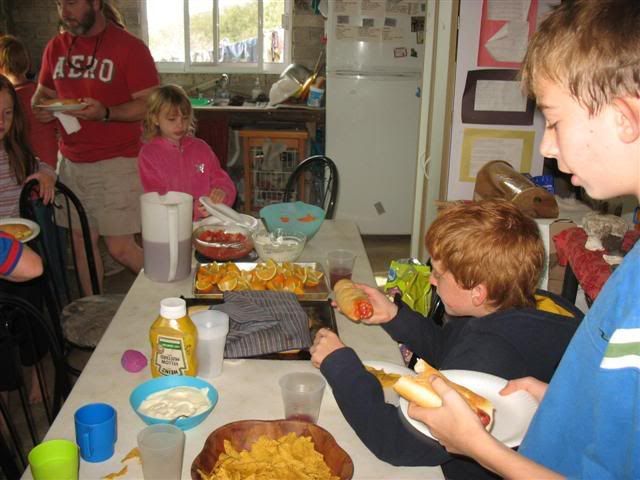 No, that's not a fish on Christian's plate. We served pigs-in-a-blanket for those who don't "do" fish.
So, they didn't catch as much as they wanted, but I think that's why they call it "fishing".